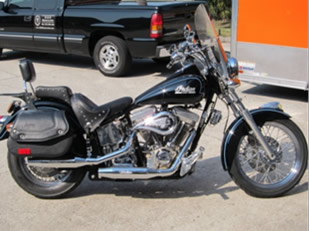 For Sale – 2002 Indian Scout
2002 Indian Scout – $7500
20k miles – Last service ~1,300 miles ago
Description/Upgrades
High Intensity headlight bulbs, new grips, new rubber on all foot pegs, index finger brake and clutch levers, kickstand stop. Has new style shifter and brake pedal w/Indian logo, K&N air filter, and Wolo air horn. New taillight assembly with high intensity bulb, dual rear turn signals wired to flash in two places on rear of bike. Quick release winshield by Memphis Shades, Indian head shift linkage, new Motobatt battery (free 2 yr replacement) and start relay. Original Indian Scout bags with Indian nickel logo. 561 Cam installed… Sounds great!!!
Additional pieces and parts
Two extra spoke wheels and tires, extra seat, additional backrest and pad with luggage rack, service manual, owner's manual, mirrors, brackets for driving lights, oil filter, spark plugs, and Mobil 1 syn oil for next service.