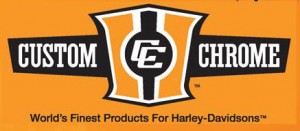 Custom Chrome® is one of the worlds largest independent suppliers of aftermarket parts and accessories for Harley-Davidson ® motorcycles. Custom Chrome® is a world leader in V-Twin parts and accessories.
Custom Chrome designs and distributes the "World's Finest Products for Harley-Davidson's" under the company brand names RevTech®, Motor Factory, Jammer and Santee. Custom Chrome also sells and distributes products from the top manufacturers and brands in the industry. Brands like Rinehart, National Cycle, Zipper's Performance and Arlen Ness are among a huge list of brands that call Custom Chrome home and that rely on CCI to deliver their products to V-Twin dealers around the world.
R & D Motorcycles is a Custom Chrome® distributor in the Tampa Bay area. Call us at (727) 785-1324 to discuss your parts or accessory needs.